Last year, we conducted Wasabi Japanese speech contest where a winner were given to a flight ticket to Japan. The winner, Mr. Jose Daniel Gonzalez Telford, finally came to Japan in the last August and stayed in Japan for approximately one month. It seemed that he really enjoyed Japan because of his fluency in Japanese. Taking this opportunity, we would like to introduce the part of his journey.  *Note; the date for the next speech context is not decided. Please wait for some time while learning Japanese.
Sponsored Links
The Japan Experience
Writing about a personal experience is always a little complicated as many colors, shapes and memories come to mind. In the case of Japan, the words that come to mind are about the culture, the people, and the "Omotenashi" and "Kaizen" spirits.  If you have an opportunity to go to Japan, you will see the definitions of these words in their actions everyday. You will be amazed by their politeness and teamwork. People are attentive, considerate, and moderate. When they do something, they think about their team, not individual. They do their best so that others can do their best too. Japanese culture is a mixture of colors, textures, imagination, and unique traditions. I feel highly honored to have had the chance of interacting with the culture and the people. As I went to my first journey to Japan with my best friend, we now know we have to go back sometime in the future.
Nagasaki

My trip started off at the great city Nagasaki, where the gates of commerce opened for the Dutch and the Portuguese a long time ago and helped Japan begin the first important international market to the Europe. There are a lot of historical places to see and visit where you can appreciate the European culture that established near ports. I also had the chance to visit the Nagasaki Atomic Bomb Museum which has a detailed explanation of the event. We visited some really old temples and we were lucky enough to find a restaurant where we had the best curry and the best ramen we had. I recommend hopping on the rope way to the top of Isahaya Mountain, which has one of the best high ground views of all Japan.
Nagasaki offted beautiful sunsets, a lot of Japanese histories, great restaurants and really nice people. The people from Nagasaki are really polite and they will help you with anything you need. I actually made two good Japanese friends during the time I stayed there. They invited me for some "Nagasaki beef" and craft beer, which I enjoyed very much.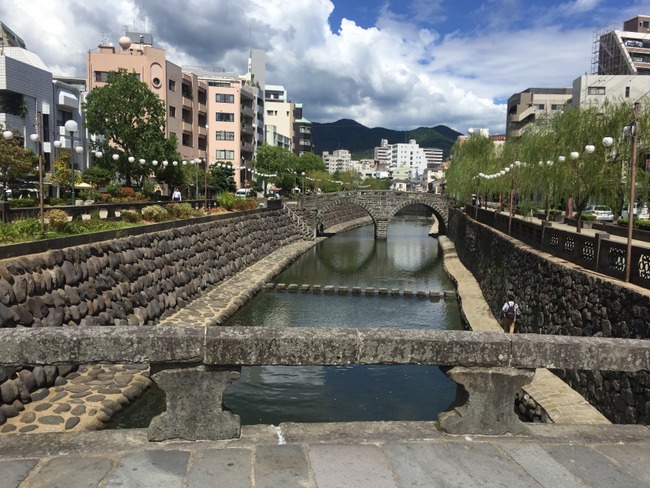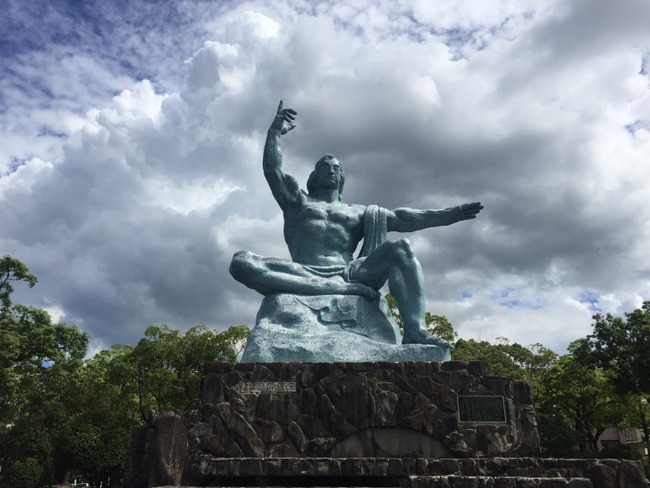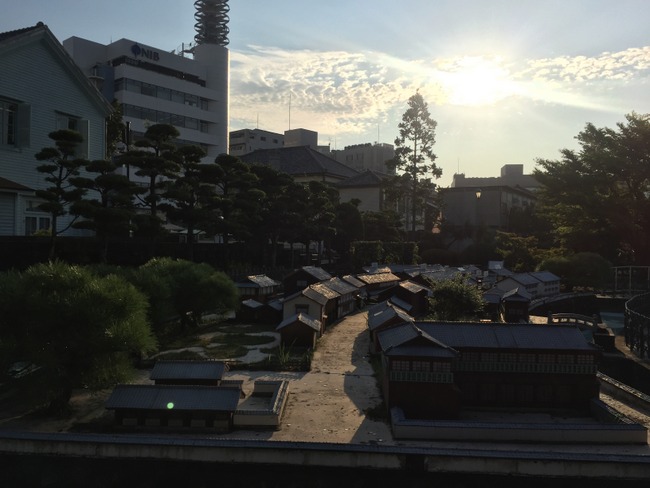 Shimabara City
The main purpose of this trip was visiting Shimabara city to attend an event held by Wasabi. I took a train which carried me from Nagasaki city through the rice fields and green landscapes, while gliding the coastline, to the nice and quite city of Shimabara. This city shares the sky with a powerful and amazing volcano. It is said that Shimabara's water is one of the best in the world, because it hold nutrients and minerals that can only be found in certain conditions near volcanoes.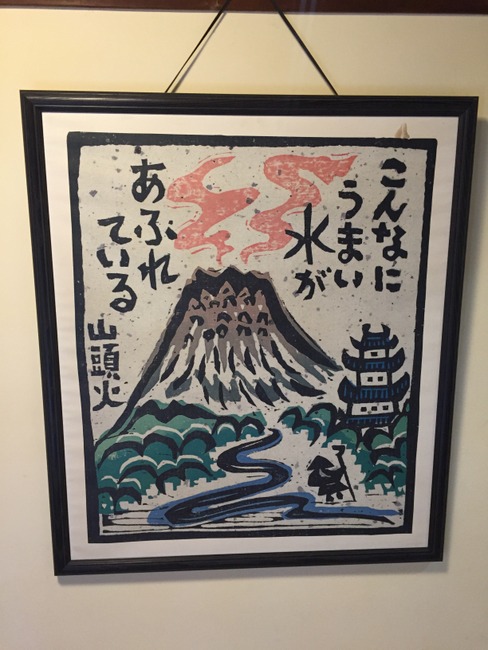 We finally met Takuya, Wasabi's CEO. We went to a fantastic restaurant where we had a traditional Shimabara meal! It was delicious! We had some variety of sashimi and special Shimabara meets.
The Cultural Exchange Day
The next day the Wasabi team picked us up and we headed to the Shimabara High school where we received a lot of gratitude and respect by the principle, the teachers, the students. They all made us feel at home. I made a speech in Japanese and a student made a speech in Spanish (*my first language). It was a moment to share different cultures between two different cultures. I spoke about the relationships between Costa Rica and Japan and how Japan has really helped Costa Rica in terms of technology and clean energy.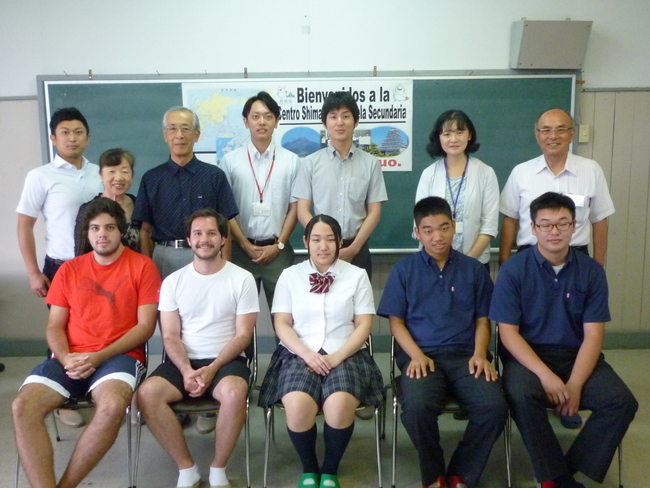 Kendo Experience
Afterwards, we moved to the high school gym to have a Kendo Experience! I had the honor to practice with one of the strongest kendo teams of Nagasaki. I was taught different movements and techniques and then I had the chance to fight with one of the professional team members and with my friend. It was one of the coolest experiences I've had in my life.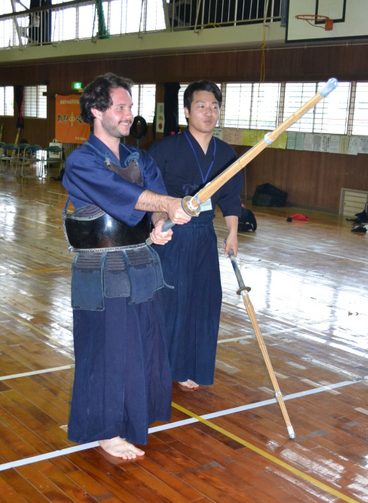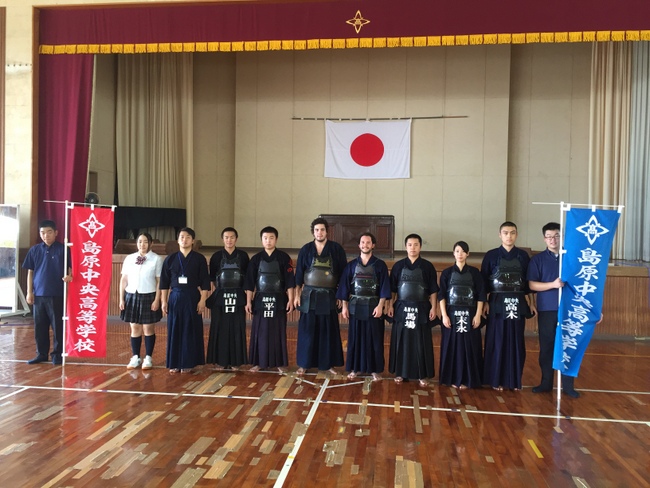 The farewell
Apart from the above, I experienced a lot of amazing things. However, I have to omit them due to the limited space here. At the end of the day, rain joined us . We felt very sad it had gone so fast. At the end, we had to say goodbye to everyone. It was the first time in my life I had been greeted so nicely by people I hardly knew.  It was really special. Shimabara was a closing door and an opening door at the same time. The wasabi team did their part, by bringing me to Japan and helping me fulfill my dream of sharing with their culture. I will be forever grateful with the Wasabi team for believing me from so far away and helping me make one of the best journeys of my life. At the end, we said goodbye to the shining city of Shimabara and headed out for the Nagasaki Airport; Japan had a lot of other surprises waiting for me.
Would You Like to Have a Native Tutor Guide You?
Since we are providing online lessons, you can learn Japanese with native speakers and our well-designed curriculum from anywhere in the world. Our lessons are;
-One on one lessons for 50 minutes once a week
-JPY5,800 (USD 47 or EUR 42 -20th June 2015) per month
-Continuous support from the same tutor
-Regular lesson time selected by users
We can be sure that your Japanese will enhance further. Please join in Wasabi today via the following.