*These Japanese lessons are created based on the Terms of Use of the Copyrights of them; TITLE: Give My Regards to Black Jack, AUTHOR: Shuho Sato, and WEBSITE: Manga on Web.
Japanese Lessons with Manga 2-9-1 笑顔 That Smile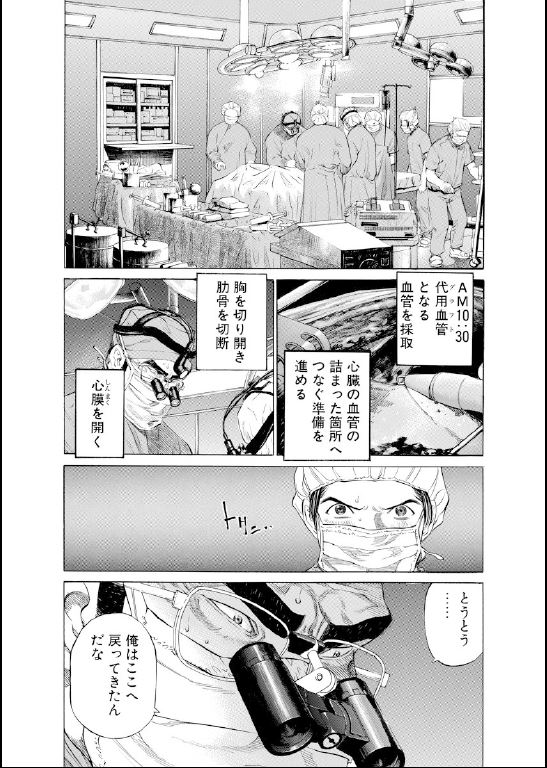 You can browse all of the pages by clicking the picture above and then move to any page via 「目次」 at the left. When you need English translations or explanations, please return here and refer them. This article covers from page 179 to page 198.
Japanese Script with Furigana and English Translation
AM10:30、代用血管となる血管を採取。心臓の血管の詰まった箇所へつなぐ準備をすすめる。胸を切り開き、肋骨を切断。心膜を開く。
10:30 AM: Extracted graft vessel. Prepared to connect graft to blocked portion of cardiac vessel. Cut open patient's chest. Cracked ribcage. Opened pericardium.
「とうとう…俺はここへ戻ってきたんだな。」
"So… Here I am again."
「メス。」
"Scalpel."
さすがです…。少なくとも腕の方は*全く衰えていない…。
"I knew it… His skills are just as sharp as ever."
One Point Lesson: Japanese Vocabulary
…の方 works as kind of a demonstrative and indicates 腕 in this context. Since 方 has a function to express comparison, this implies that the speaker worries about something besides his skills.
乗り越えろ…。100%の自信を持って手術場に立っている医者などいない…。もしもそんな医者がいたとしたら…、それは己*を過信し、そのことにすら気づいていない人間だ…。誰もが不安を押し殺し…恐怖と闘っている…。
"Get through this. No such thing as an OR doctor with no self- doubt. If there were… they'd be so overconfident, they'd never even notice it. We all stifle our insecurity. We all battle our fear."
速い…。こんなに速いのか…。
"He's fast… He just so fast…"
乗り越えろ…。
"Get through this."
(だって…宮村さんの笑顔を見てみたいじゃないですか…!)
(It's just… I just want to see him smile for once!)
俺は…心臓外科医だ。
"I am a cardiac surgeon."
One Point Lesson: Japanese Vocabulary
己 means "oneself," however, it is seldom used in everyday life.
「え…?」「なんだコレ…?」「心室細動…オペ中ごくまれに起こる原因不明の心臓痙攣。」「心室…細動…」「くそ!心臓が怒り出しやがった*!カウンターショック行くぞ!」「出血しています!」「分かってる!心臓マッサージが先だ!」「ダメだ!動かない!」「落ち着け。2回目行くぞ!」
"Huh? What's going on?" "He's in V-Fib. A heart spasm of unknown cause that happens extremely rarely during surgery." "A heart… spasm…" "Dammit! This heart is pissed! I need those paddles!" "He's losing blood!" "I know that! First we do cardiac massage!" "No good! It's not beating!" "Calm down. I'm trying again!"
One Point Lesson: Japanese Grammar
やがった is the past form of やがる. This is a verb suffix indicating hatred and contempt and used among close friends or under serious situations. Be careful, however; you may look rude, though you can intensely show your emotion.
(無理だ…。きっと僕が無理矢理オペをさせてしまったから、こんな事に…*。僕のせいだ…。死ぬ…宮村さんが死んでしまう…)「目を閉じるな!君は医者だ…だったら絶対に目をそむけるな…!」「動け…動けエエエエ!」
(It's no use… This is all because I forced him to operate… It's all my fault… He's going to die. Mr. Miyamura is going to die.) "Open your eyes! You're a doctor… Keep your eyes on the table!" "Beat… beat, damn you!"
One Point Lesson: Japanese Expression
In this sentence: こんな事に…, the last part is omitted. This uncomplete sentence indicates that Dr. Saito is distracted with the emergency.
「オペを続けるぞ…。」「先生…ここは心臓を止めて人工心肺に切り替えましょう。また心室細動が起こらないとは限りません。このまま拍動下で手術を続けるよりは…」「確かに人工心肺にのせれば心室細動を心配する必要はない…。だが患者は肝硬変を併発している。人工心肺を使えば肝臓がやられて死ぬ機会ははるかに増す…。」「安全策です!ここで人工心肺にのせたからって*誰が先生を責められますか!?」「俺が責める。人工心肺は使わない…。俺は…俺の決断を信じる…!」
"On with the operation." "Doctor… Let's stop the heart and switch to a heart-lung machine. The patient might go into V-fib again. It has to be safer than proceeding off-pump…" "True, putting him on a heart-lung machine means we wouldn't have to worry about V-fib. But this patient has hepatic cirrhosis, too. A heart-lung machine greatly increases the danger of him succumbing to that instead." "It's a safety net! Who'd blame you for using a heart-lung machine at this point?" "I would. I'm not using a heart-lung machine. I… I have faith in my decisions!"
One Point Lesson: Japanese Expression
からって is the casual form of からといって. This can roughly be translated as "just because" or "even if."
(この人は…医者だ…。僕は…医者になってよかった…。)「斉藤先生…俺は今まで…ずっと堤防の先へ向かって歩いていたのかもしれないな…。ただ…振り返ればよかったんだ…。ありがとう。」
(This man is a doctor… I'm so glad I became a doctor, too.) "Dr. Saito… I might've been walking toward the end of an embankment all this time… Now I know: I should have turned around. Thanks."
Recommended Links
Next Lesson
Program Table of Japanese Lessons
Recommended Links