*These Japanese lessons are created based on the Terms of Use of the Copyrights of them; TITLE: Give My Regards to Black Jack, AUTHOR: Shuho Sato, and WEBSITE: Manga on Web.
Japanese Lessons 1-4-1 夏雲 / Summer Clouds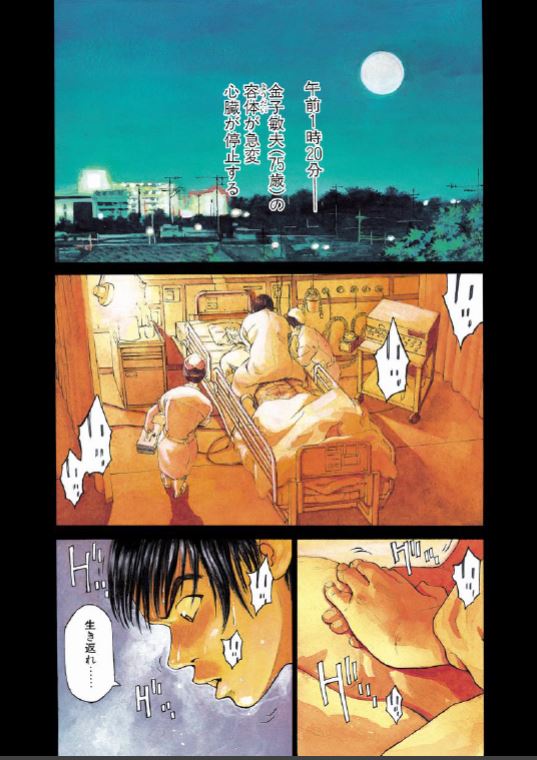 You can browse all of the pages by clicking the picture above and then move to any page via 「目次」 at the left. When you need English translations or explanations, please return here and refer them. This article covers from page 111 to page 124.
Japanese Script with Furigana and English Translation
午前1時20分、金子敏夫(75歳)の容体が急変、心臓が停止する。
1:20 AM. Toshio Kaneko, 75, experienced a sudden change in his condition, and his heart stopped.
「生き返れ…生き返れ…!」
"Come on, come back… Come back!"
「非常に申し上げにくい事ですが*、お父様の意識が回復する見込みはほぼなくなりました。現在心臓マッサージでなんとか心拍は戻っていますが、肝不全、心不全に加え、心停止による低酸素血症で脳細胞がやられています。」
"I'm very sorry to have to tell you this, but there's almost no possibility your father will regain consciousness. We've restored his heartbeat with cardiac message, but his liver and heart are failing. The drop in blood oxygen when his heart stopped will have damaged his brain cells."
One Point Lesson: Japanese Vocabulary
「非常に申し上げにくい事ですが」 is a formal expression. Apart from this, there are some common phrases to say something tough such as 「言いにくいのですが、(It's hard for me to say this but,)」 and 「何と言えばいいかわからないのですが、(I don't know what to say this but,)」.
「どうしてそのまま死なせて*やらなかった…?斉藤先生…。やるなといった腹膜透析まで行うなんて…、くどいようだが単なる延命処置は国民の医療費の無駄遣いだ。」「白鳥先生…医者が患者を助けようとするのがそんなにいけない事ですか…?」「私はこういう患者を何百も見てきた。死にゆく者は静かにみとるべきだ。」「それじゃあ、だまって死ぬのを見てろって言うんですか…?」「その通りだ…。」
"Why didn't you just let him die? Dr. Saito… I told you not to do that peritoneal dialysis. I've said this before, but simply prolonging his life like this is a waste of healthcare funds." "…Tell me, Dr. Shiratori. Is it really such a crime for a doctor to try to save his patient?" "I've seen hundreds of patients just like this one. All the dying need is someone to be there for them." "Are you saying we should just shut up and watch them die?" "Exactly."
One Point Lesson: Japanese Grammar
This is a causative form. 「死ぬ」 is a u-verb and is conjugated to 「死なせる」. And the sentence is compound with 「やる」.
「難しい事は分かんね*…。お任せします…。」「延命処置は中止させていただきます。」
"We don't understand all this…We'll let you handle it." "Then we'll remove his life support."
One Point Lesson: Japanese Vocabulary
This is a dialect and equivalent to 「分からない」.
「おじいさん…あなたは本当に意識がないんですか…?もしかして目も口も体も動かせなくて…自分の思ってる事を人に伝えられないだけじゃないんですか…?教えてください…。あなたは本当にこんな最期でいいんですか…?」
"Mr. Kaneko… Is there really nobody in there anymore? Even if you can't move your eyes or your mouth or your body… doesn't that just mean you can't tell people what you're thinking? Please, answer me this: Are you okay with this being the end?"
7月6日、延命処置中止から3日経過。
July 6, three days after discontinuing life support.
「おじいさん…息子さんも誰も来なくなっちゃいましたね…。手術の時はあなたのために100万も出したのに…死ぬと決まったら見舞いにすら*来ないんですね…。なんだったんですかね…?あの100万はあなたへの餞別だったのかな…?」
"Mr. Kaneko, no one is coming by to see you now. Not even your son. He paid $10,000 for your operation too. But once we decided to let you die, he doesn't even visit anymore. I wonder why? Was that money a farewell present…?"
One Point Lesson: Japanese Vocabulary
「すら」 means "even". This is usually used in negative expressions.
「お早うございます。…何やってるんですか…?」「そりゃ先生、意識がなくても体は汚れるし、動かさないと床擦れもできますから…。」「伸びてる…。ヒゲが…伸びている…。」
"Good morning. What are you doing?" "Well, doctor, even comatose patients get dirty. And he'll get bedsores, too, if we don't move him. It's growing. His beard… It's growing."
助けてくれよ先生…。お願いだよ…先生…。オレはまだ死にたくねえんだ…。なんとかしてくれよ先生…。お医者は偉いから先生って呼ばれてるんだろ…*。
"Help me, doctor… Doctor… Please… I am not ready to die… Can't you do something? You, doctors, are all about saving lives, ain't you?"
Note
This translation is made with the free translation method . In Japanese cultures, professional people such as doctors, layers, politicians, and accountants are called 「先生」 in order to express respect.
たとえ意識を回復する可能性が1%しかなかったとしても、医療側の都合で治療をやめるのは間違いだ…。「どうせ死ぬなら腹を開けろ。なんにもしないよりマシだ。お前は医者だ。新人だろうが半人前だろうが、お前は医者なんだ…。」僕は医者だ…!
Even if there is barely a 1% chance of recovering consciousness, it's not right for doctors to withdraw care for convenience's sake. "If he's got to die, you might as well cut his abdomen open… It's better than doing nothing. You're doctor… whether you're new or inexperienced, to the patient, you're still a doctor." I am! I am a doctor!
Recommended Links
Program Table of Japanese Lessons
Recommended Links