Japanese pronunciation has a lot of sounds that differ from English. It is said that even though English has 44 sounds (BBC Learning English), just five or six of those sounds are almost the same as Japanese sounds. However, the good news here is that the Japanese pronunciation system is very simple. Each Hiragana has only one sound. Therefore, after you complete the Japanese pronunciation lessons, you can theoretically pronounce all Japanese words by checking the Hiragana. Thus, it is very advantageous to dedicate your time to practicing Japanese pronunciation. Clear pronunciation will give you not only speaking ability, but also listening ability. Moreover, it will definitely be a boon to increasing your vocabulary because people can easily memorize words if there are no unknown sounds. Please try to build a stable base for your Japanese through the Japanese pronunciation lessons.
The Most Effective Japanese Pronunciation Lessons
How to Proceed with the Japanese Pronunciation Lessons
In the Japanese pronunciation lessons we will focus on enabling you to practice while viewing pictures and videos showing how native speakers' tongues and mouths are moved, the key to making these sounds. If you know the theories in place, you can make your Japanese pronunciation sound very natural. Let's see how it works.
Learning Materials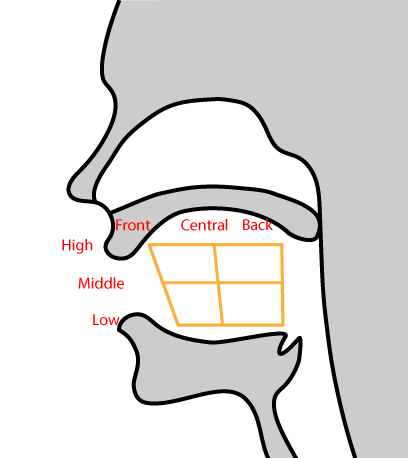 We will use the above picture for the Japanese pronunciation lessons. For the sake of easy understanding, let's define the tongue positions as the picture shows. For example, we will give a direction such as "put your tongue at the low and central position." When you are confused with the terminology, please return here and confirm the positions again.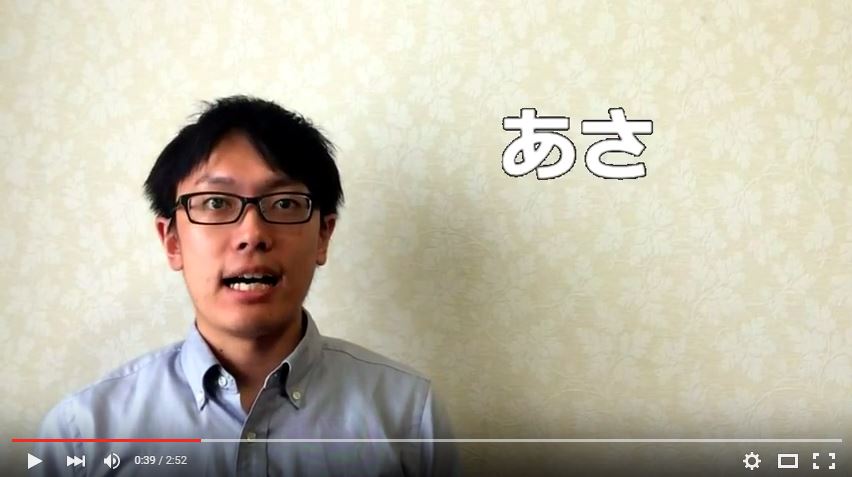 All of the videos are taken from in front of tutors so you can check form of his or her mouth. Tutors will demonstrate Japanese pronunciations with pauses. During the pauses you can practice with clear pictures.
How Japanese Pronunciation Exercises Work
Step 1 Confirm tongue positions and form of mouth
Firstly, you are going to confirm your tongue position and the form of your mouth by looking at a picture and a tutorial video. Tutors will demonstrate your target sound several times. Please imitate and repeat after the tutors.
Step 2 Word Exercise
Secondly, you are going to practice your target sound with words. Even if there are unknown sounds in the words and you could not pronounce them well, don't worry! When you complete these Japanese pronunciation lessons, you will be familiar with all Japanese pronunciation. Thus, please focus on your target sound while repeating it after the tutors.
Step 3 Sentence Exercise
Thirdly, you are going to practice your target sound with sentences. Also, please focus on your target sound. The sentences contain it several times, so you will know how to pronounce it from various starting points.
Step 4 Tongue Twister Exercise
Finally, you are going to try tongue twisters. Please focus on how you move your tongue and mouth, and not the meanings because they are generally made just for pronunciation practice. In this exercise you will be required to move your tongue and mouth faster. Please keep using the positions and mouth forms which you've been practicing so far.
In the list of Japanese learning materials, we prepared all of the Japanese pronunciations. Thus, once you have finished one of them, please proceed with the next one accordingly. When you complete all of them, we highly recommend you to review them by practicing from the first sound once again. That way, you will become much better at making Japanese sounds and may eventually forgo Japanese pronunciation practice.
Conclusion
Japanese pronunciation is not difficult. It's just different from what you are familiar with. Thus, anyone can acquire it if he or she understands the theories in place, namely, knowing how to use your tongue and mouth. However, pronunciation lessons can sometimes be a little dull. Therefore, it's better to concentrate and complete lessons for short periods of time. We think that the more you improve, the more likely it will become enjoyable, even if it's a routine practice. Try to have fun and acquire a natural Japanese pronunciation.
Recommended Links
Recommended Links