*These Japanese lessons are created based on the Terms of Use of the Copyrights of them; TITLE: Give My Regards to Black Jack, AUTHOR: Shuho Sato, and WEBSITE: Manga on Web.
Japanese Lessons 2-5-1 弁明 Justification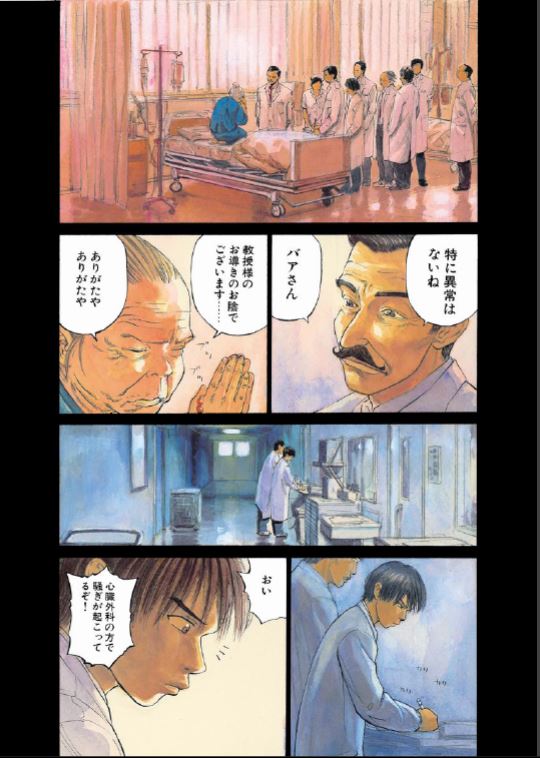 You can browse all of the pages by clicking the picture above and then move to any page via 「目次」 at the left. When you need English translations or explanations, please return here and refer them. This article covers from page 91 to page 110.
Japanese Script with Furigana and English Translation
「特に異常はないね、バアさん。」「教授様のお導きのお陰でございます…ありがたや、ありがたや。*」「おい、心臓外科の方で騒ぎが起こってるぞ!」「宮村さん!」
"Everything seems fine, ma'am." "All thanks to your wise guidance, doctor. Praise be!" "Hey! There's a commotion over in surgery!" "Mr. Miyamura!" "Please calm down! We can talk this over, Mr. Miyamura."
One Point Lesson: Japanese Expression
「ありがたや」 is a set phrase to pray. Today, in everyday life, this is sometimes used as a joking between close relationships.
「落ち着いてください!とにかく話し合いましょう、宮村さん!」「どうしました?」「オレの手術はこの病院でしたら成功する可能性が低いそうですね…。内科の研修医の先生にききました…。オレは死にたくありません。他の病院を探します。」「は…?何を言っとるか~!あんた何様のつもりだぁ~!」「おい!入ってくるな!誰かドアを閉めろ!」「閉めるな。他の患者さんにもぜひ聞いていただきたい。宮村さん、あなたのオペは確かに非常に危険です。ですが、そのオペをどこの病院でやろうとリスクは同じですよ。オペとはそういうものです。あなたは当院はオペの技術が低いとお考えのようだが、その根拠をお聞かせ願いたい*。」(クソ…退院する気だ…宮村さん。)
"What's going on?" "Seems my surgery doesn't have much chance of being successful here… That's what my intern told me. I don't want to die. I'll find myself a different hospital." "Huh? What are you talking about!? Who the hell do you think you are?" "Hey! Stay out! Someone shut the door!" "Leave it. I'd like the other patients to hear this. Mr. Miyamura, your operation is indeed extremely risky. But the risk is the same no matter where you go. That's how operations are. You seem to think we have poor surgical technique here. I'd like to know why you think that way."(Damn… Mr. Miyamura's trying to check out!)
One Point Lesson: Japanese Expression
「願う」 is a formal word, however this phrase 「お聞かせ願いたい」 doesn't sound very polite, though it sounds formal. In Japanese, the end of sentences is important. In this case, if you use the request and the polite form like this; 「お聞かせ願えませんか?」, it will certainly sound polite.
「アンタら、手術なんかたまにしかしないそうじゃないか。そんなの*めったに包丁をにぎらねえ料理人みてえなもんだ。」「なる程…つまり、少しでも手術数の多い病院で手術を受けたいというお話ですね…。よろしい…それでは手術数の多い病院へお行き下さい。」
"You folks hardly ever do any surgeries, that's like a cook who barely touches a cleaver." "Aha… So you'd prefer somewhere with a few more surgeries under its belt. Very well. Go somewhere that performs more surgeries."
One Point Lesson: Japanese Expression:
In this phrase; 「そんなの 」, the topic particle は is omitted and the の works to replace a noun. Thus, if we plainly say that, it would be like 「そんな人は」.
「すいません…通して下さい…。」
"Excuse me… Please let me through…"
「ただし宮村さん…手術数の多い病院が優秀だと考えるのは違いますよ…。そういう病院の目標は、できるだけ多くの患者をさばく事です。一人の患者に時間をかけたりはしません。要は金儲け主義です。そんな連中に質のいい医療ができると思いますか?」
"However, Mr. Miyamura… More surgeries do not make a better hospital. Those places aim to slice open as many patients as they can. They won't spend any actual time with you. In short, it's all about the money. Can doctors like that really provide quality care?"
(違う…!)
(You're wrong!)
「日本の医療制度は不公平なものでしてな*、誰がやっても何人がかりでも"オペの値段"は変わらないのです。たとえば、宮村さんが受ける心臓バイパス手術は85万4千円。我々は何人がかりでその手術をすると思いますか?10人です!儲けだけの病院ならどうしますかな?当然かかわる医者の人数を減らしますよ。」
"Japan's medical system is unfair, you see. Surgical costs remain the same, no matter how many surgeons or who they are. Take your cardiac bypass surgery, for example: $8,540. How many of our surgeons perform that procedure? Ten! Now, what if we were only in this for the money? We'd reduce the number of surgeons, of course."
One Point Lesson: Japanese Expression.
「でしてな」 can be divided into two parts; 「でして」 which is です with te-from expressing a sequence of verbs or events and 「な」 which is a sentence ending particle expressing politeness (*This usage is only said by old men).
(違う!)
"Wrong again!"
「我々は全員心臓外科の"認定医"です。全員が手術の経験を6年以上積み、かつ胸部外科学会に4年以上在籍しております。ところが日本では心臓外科に限らず…医師免許さえ持っていれば、誰がどんな手術をしてもいい事になっています。どこぞ*の三流医大出の認定医でもない連中が、毎日毎日患者を流れ作業のようにさばいているのが現状です…。まるでファーストフードを作るかのようにね。もう一度…よくお考え下さい…。」
"We cardiac surgeons are certified. We all have at least 6 years of surgical experience and at least 4 years in the association for thoracic surgery. But here in japan, anyone with a medical license can perform any old surgery. These schmucks from two-bit, fly-by-night med schools slice open patient after patient, day after day, like an assembly line. Almost like a fast food joint, in fact. So why don't you give it. Just a little more thought…"
One Point Lesson: Japanese Expression
「ぞ」 is used with question words like 「誰」 and 「どこ」. This can emphasize uncertainty, but is not used so often.
「違う!」
"You're wrong!"
「宮村さん…ご自分が退院したいと思ったんならするべきです…。僕が絶対にいい病院を探し出します…!だからご自分のしたいようにして下さい…!」「今更何言ってやがる…。アンタは口だけじゃないか…!」「さがりたまえ*。君はもう宮村さんの担当医じゃないはずだよ。」「教授、実際に年間200例以上のオペをしている医者と話をした事がありますか…?」「さがりたまえ。」
"Mr. Miyamura… If you want to check out, you should. I'll find you a good hospital! So you go ahead and do what you want!" "It's a little late for that… you're all talk, you know that?" "Step aside. I know you're not this man's doctor anymore." "Sir… Have you ever spoken with a doctor who performs over 200 operations a year?" "Step aside."
One Point Lesson: Japanese Expression
「たまえ」 is not used in everyday life nowadays. It's 「たまう」 with the command form and can roughly be translated as "please".
「帰った、帰った!研修医ごとき*が教授に失礼だぞ!」「僕は実際にそういう医者に会って話をきいてきました!」「ほほう…。つまり…君は永大を裏切って外部の医者に接触したのだね?」「ぼ…僕の会った先生は…北三郎先生は断じて金儲け主義ではありませんでした!もっと…外を見てください…。外にも…世界はあるんです…。」「君は永禄大学にふさわしくない。すぐに辞表を書きなさい。」
"Go on, get out of here already! Quit insulting the chief of cardio" "Because I have! I've talked to that doctor!" "Ah… So you've betrayed Eiroku and contacted an outside physician?" "Th- The doctor I met with… Dr. Saburo Kita… He's definitely not in it for the money! Please… look outside… There's so much more. There's a whole world out there…" "You don't belong at Eiroku University. Submit your resignation at once."
One Point Lesson: Japanese Vocabulary
「ごとき」 is explained by dictionaries like this; "like; as if; the same as". However, this can be a very rude expression. For example, you can say like this; 「研修医ごときが意見を言うべきではない (you, like an intern, shouldn't say your opinion)。」
「さて、宮村さん、どうしますか…?退院なさいますか?」「分かんねえ。もう何を信じたらいいんだか…。ねえ、教授先生*…アンタ患者が死んで泣いた事がありますか?」「そこで泣くものはプロ失格です。」「じゃあ平然としていたらプロなんですか!?」「泣いて自分を許すなら確かにプロじゃありません…。だけど…だけど…。」「やめろよ。どうしてオレのためにそこまでするんだよ…?アンタ一体…俺の何なんだよ…?」「宮村さん。」「斉藤先生…オレはアンタを信じるよ…。」
"Now, Mr. Miyamura… What's it going to be? Will you be leaving us?" "Who knows? I don't know what I should believe anymore. Hey, doc… you ever cry when you lose a patient?" "If I did, I wouldn't be a pro anymore." "So that's the mark of a pro? Indifference!?" "Sure, crying and forgiving yourself isn't very professional… But… but…" "That's enough. Why would you go this far for me? Who– who are you to me, anyway?" "Mr. Miyamura?" "Dr. Saito… I trust you."
One Point Lesson: Japanese Expression
「教授先生」 is actually wrong. You can use only one suffix for one person. So, it should be 「教授」 or 「先生」. The author tried to express his big anxiety by making a mistake.
Recommended Links
Program Table of Japanese Lessons
Recommended Links