Similar to America, political correctness has slipped into Japan. The festival once celebrating boys in samurai times (端午の節句) is now Children's Day (こどもの日.) Boys, however, still take center stage. Samurai helmets (兜) and armor (鎧) are displayed inside. Sailing on spring winds are carp streamers (鯉のぼり.) In Japanese city apartments, sometimes the carp accompany the samurai armor. Carp are strong swimmers. The colorful fish are famous for fighting upstream currents. (A Chinese tale tells of carp that transform into dragons.) The prayer for boys is health and courage.
Some homes bring out legendary Kintaro dolls. (Kintaro, as the story goes, rode bears as a boy!) Children's Day is also a day commemorating mothers.
Children's Day is always May 5. It's the finale to a string of four holidays in one Golden Week (ゴールデンウィーク.) Caution: Golden Week is synonymous with travel in Japan. The weather may be sublime but the crowds can be challenging. It's definitely a time to make reservations. Here's the lineup for Golden Week.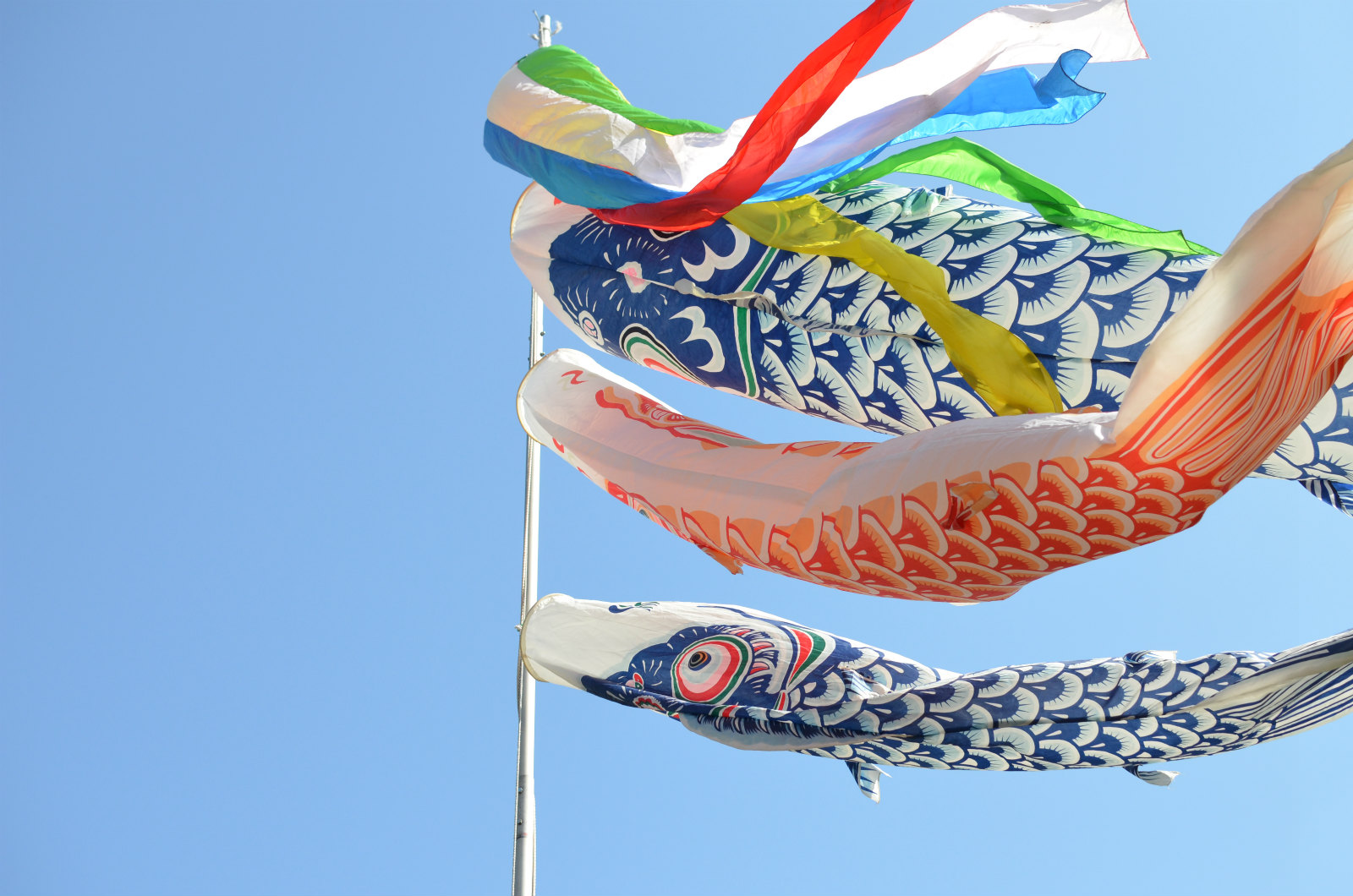 Golden Week (GW)
ゴールデンウィーク
Showa Day (April 29)
昭和の日
(Commemorating the birthday of Emperor Hirohito whose reign is referred to as the Showa Period.)
Constitution Day (May 3)
憲法記念日
Greenery Day (May 4)
みどりの日
Children's Day (May 5)
こどもの日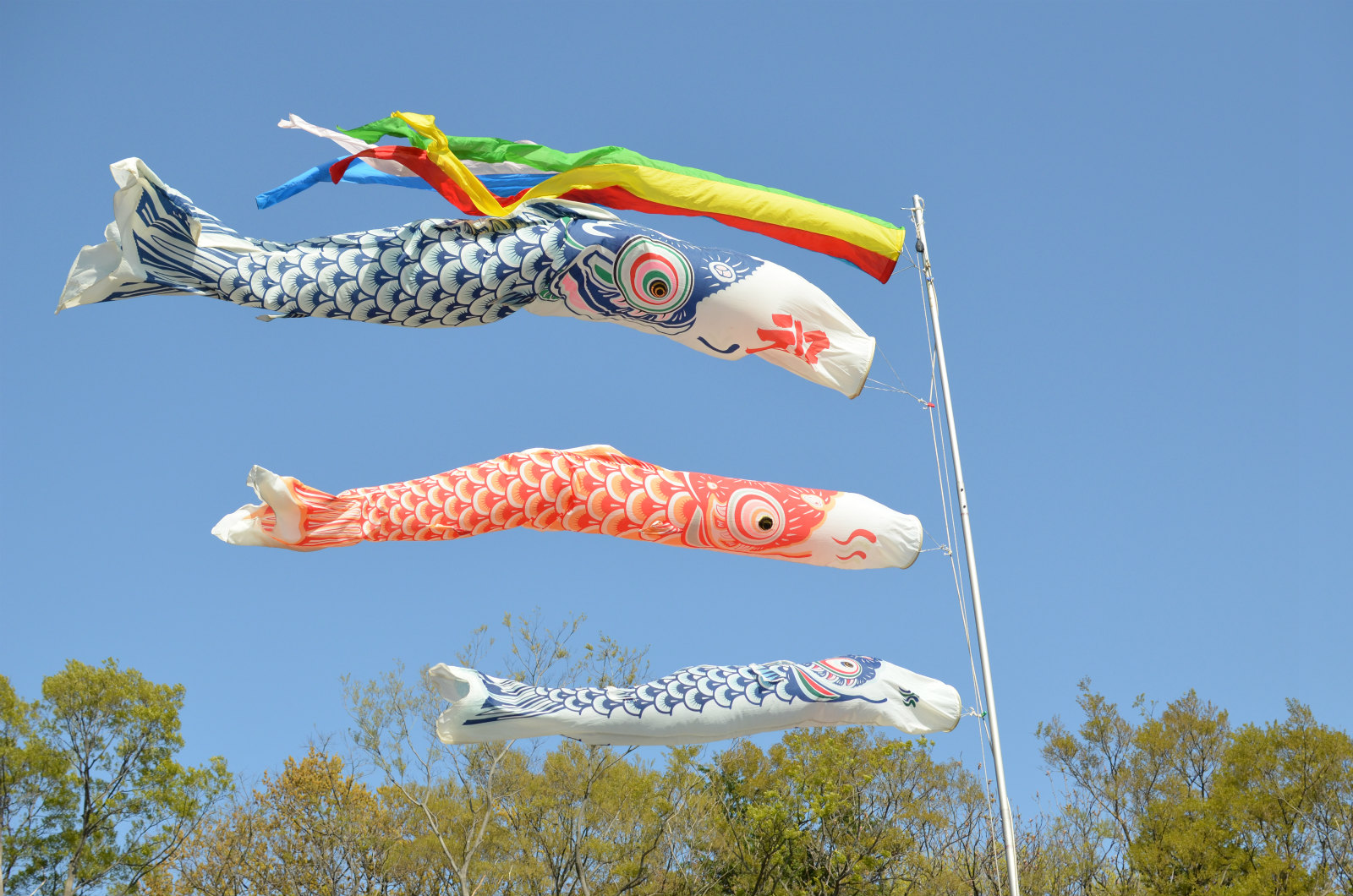 Spring celebrations and Children's Day also brings out the sweets. Kashiwa mochi(柏餅) appear. Rice cakes stuffed with red bean paste and presented in oak leaves. The Children's Day was declared an official holiday in 1948. A few decades ago, Japanese patisseries started creating cute Children's Day cakes.
Visit the Iwatsuki area of Saitama City for spectacular sights of koinobori, Children's Day (and Hinamatsuri, Girl's Day) dolls. Known as the Doll's City, many manufacturers who specialize in Children's Day and Girl's Day are in Iwatsuki. They even have a museum. See the Togyoku Doll Museum site for details.
Togyoku Doll Museum
1-3- 2, Honcho, Iwatsuki-ku Saitama City, Japan
Tel: 0120-39- 3501
Web site: tougyoku.com/english.html
Words You'll Want to Know for Japanese Children's Day:
Child/Children
子供
Boy's Festival
Boy's Day
端午の節句
mother
お母さん
gratitude
感謝
holiday
休日
day off
休み
national holiday
祝日
carp streamers
鯉のぼり
black (father) carp
真鯉
red (mother) carp
緋鯉
colored carp (the children)
子鯉
Kim Watkinson, The Ninja Baker
NinjaBaker.com
Follow me on Twitter @NinjaBaking
Like me on Facebook.com/TheNinjaBaker
See delicious photos at
Pinterest.com/TheNinjaBaker/
& Instagram.com/TheNinjaBaker
YouTube Videos at
YouTube.com/NinjaBakerOfficial
Recommended Links