Secrets to shopping in Japan are about to be revealed. Included, too, are a few handy-dandy Japanese phrases pertinent to scooping up your coveted purchases.
Here's the caveat:
Tokyo is in the top 20 most expensive cities in the world.The Japanese yen is strong despite the roller coaster ride on the Nikkei stock market.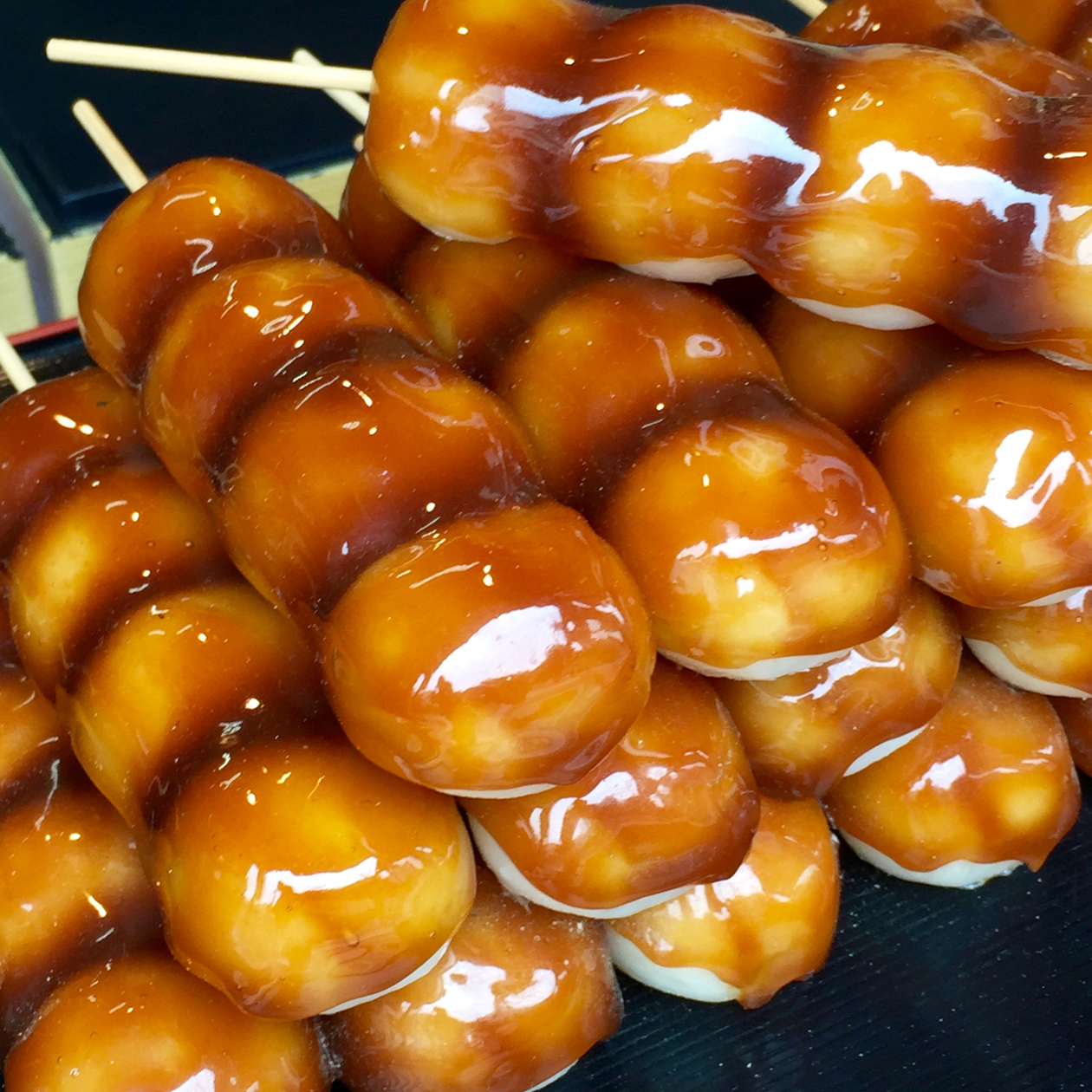 In other words:
Bring lots of exchanged cash before you land in Japan.
Tip 1: Although it's changing, many Japanese stores (and restaurants) accept only cash. This is especially true the farther you get from cosmopolitan centers.
Seek counsel from the mighty Google. Find out where you can get the best deal with the most trustworthy certified foreign currency exchange dealer. (The worst place to convert currency is the airport.)
Please refrain from expecting to eak by on a few dollars a day. (Actually, it's possible, just not comfortable! Definitely an article for another time.) Today, finding Japanese treasures at reasonable and discounted prices is the focus.
All right, so now I've got your Wasabi reader wink of understanding, right? Great!
Don Quijote to the Rescue:
Yes, Don Quijote is spelled correctly. Between Hokkaido (at the tippy-top of Japan) to the southernmost Ryukyu Islands, 300 plus Don Quijotes await your arrival.
This Japanese franchise sells tax-free goods. All advertise bilingual staff.
Don Quijote prices are deeply discounted (when compared to Japanese department store prices.) Every single store also stays open super late. The Don Quijote near Narita International Airport is open 24/7. (Don Quijote is so popular, 3 stores are now also open in Hawaii.)
Don Quijote is for you if:
You're on a tight budget.
You forgot your toothbrush, aspirin, fill in the blank.
You need a one-time use bathing suit.
Or weather has turned unexpectedly warm or cold; you need clothes for your few remaining days.
All the restaurants have closed and you're hungry.
Souvenirs are making your current baggage bulge; you need extra luggage. (My sturdy Don Quijote bright blue suitcase purchased to accommodate irresistible fetches many compliments.)
More Don Quijote info in English.
Tip 2: Do not bargain in Japan. It's considered rude by most. Be the good ambassador.
Play by the rules of your host country. The exception is at flea markets…But it's a gentlehaggling. See this article for superb advice.
Practically Perfect in Everywhere Tokyu Hands.
Tokyu Hands is the ultimate expression of Japanese attention to artistry and beauty. Like Don Quijote, Tokyu Hands has a wide selection of everything. However, the arrangements and quality of goods are a step above. Plus, Tokyu Hands displays show off the best use of their products. Instructions for many of the items are in English. Foreigners living in Japan flock to Tokyu Hands for the lovely and inexpensive stationery.
Tokyu Hands is for you if.
You love looking at beautiful arrangements.
You're seeking high quality products to bring home at reasonable prices.
You appreciate top-notch service.
More Tokyu Hands info in English.
Vacation and Life are Short – Head to the Oriental Bazaar:
The Oriental Bazaar in Harajuku is a tourist spot. (Harajuku is also filled with trendy boutiques.) Exquisite Japanese souvenirs are for sale at the Oriental Bazaar. You will pay top yen. However, every person on staff speaks English. (Or so it seems.) But, if you're in a rush for souvenirs, the Oriental Bazaar is conveniently located and a great way to speed shop!
The Oriental Bazaar is for you if.
You're short on time.
You really want to speak to someone in English.
You want to do a one-stop shopping for everyone.
More Oriental Bazaar info in English.
Tip 3: To maximize your shopping (and sightseeing time), take a good look at train and subway maps. Then, decide on your plans for the day.
If you're a vintage shopper in Tokyo, take a trip to Shimokitazawa. It's minutes by train from Shibuya. Both the Keio and Odakyu lines will get you there.
Click here for more info about Shimokitazawa.
If you prefer to immerse yourself in traditional Japanese arts and culture, you probably will visit Kyoto's temples, shrines and castles. On the 21 st of each month, Toji Temple hosts the Koubou Ichi Market. You'll find quality fabrics and Japanese crafts for reasonable prices. There are similar markets all around Japan. However, both Japanese and foreigners agree that Koubou Ichi Market in Toji Temple is the Grande Dame of open-air markets.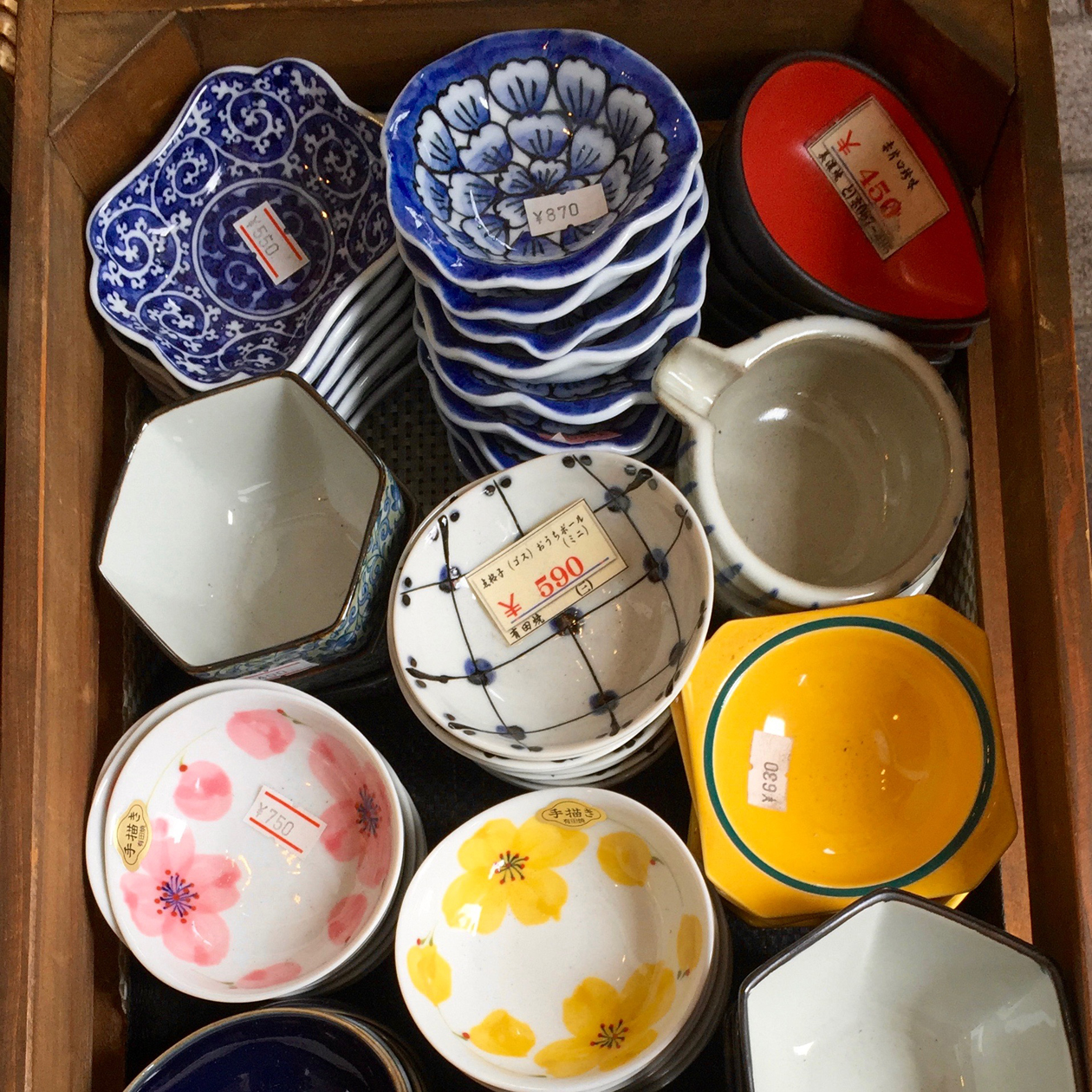 Koubou Ichi Market
Address: 1 Kujocho, Minami-ku, Kyoto City (Inside the grounds of the Toji temple)
Telephone: 0774-31- 5550 (The Koubou Ichi Market Working Committee)
Station: Toji station (Kintetsu line)
Access 1: 10 minutes walk from the Toji station (Kintetsu line).
Access 2: 15 minutes walk from the Kyoto station (JR line).
Open Hours: From 5 a.m. to 4 p.m., on the 21st of every month
No need to worry about communication while shopping if you memorize the following words or keep this post on your phone.
Happy shopping!
English
日本語
How much does this cost?
いくらですか。
Do you have something a bit cheaper?
もうちょっと安いものはありますか。
Do you have something similar to this?
同じようなものはありますか。
似ているものはありますか。
May I see this in a different color?
これを他の色で見ることはできますか?
It's too big.
大きすぎです。
It's too small.
小さすぎです。
It's just right.
ちょうどいいです。
I'd like to buy this.
これを買いたいです。
It's beautiful (it's cute) but no thank you.
素敵ですが(可愛いですが)、結構です。
Free, no charge
無料
Bargain, Big Bargain
バーゲン、大バーゲン
If you know your numbers in 1 to 10 in Nihongo, you can relax…a little bit.
| | |
| --- | --- |
| 1 | 一 |
| 2 | 二 |
| 3 | 三 |
| 4 | 四 |
| 5 | 五 |
| 6 | 六 |
| 7 | 七 |
| 8 | 八 |
| 9 | 九 |
| 10 | 十 |
In most cases, add any number above one to ten, hundred, thousand, ten thousand For instance:
| | |
| --- | --- |
| 2 hundred yen would be ni-hyaku-en | (二百円) |
| 3 thousand yen would be san-zen-en | (三千円) |
| 50 thousand yen would be go-man-en | (五万円) |
All right, so here's where Japanese currency can get a tad tricky.
I'm not going to tell you not to think in USD, GBP, AUD or CAD because you will and you need to for smart shopping.
Just remember that in Japan the primary bank notes are:
| | |
| --- | --- |
| 100 hundred yen (coin) | 百円 (小銭) |
| One thousand yen (note) | 千円 (お札) |
| Ten thousand yen (note) | 1万円(お札) |
Yes there is a one "ichi" before the 10,000 yen note denoting one 10,000 yen note.
(As of today's writing the exchange from JPY to USD is excellent: $87. to ¥10,000.)
Here's the how to navigate coin change:
| | |
| --- | --- |
| 1 yen | 一円 |
| 5 yen | 五円 |
| 10 yen | 十円 |
| 50 yen | 五十円 |
Speaking of charges, in case you want to have the shop send the goodie home for you:
| | |
| --- | --- |
| Can you send this to | これは_______まで送られますか。 |
| The USA? | アメリカ |
| England? | イングランド |
| Australia? | オーストラリア |
| Canada? | カナダ |
Kim Watkinson, The Ninja Baker
NinjaBaker.com
Follow me on Twitter @NinjaBaking
Like me on Facebook.com/TheNinjaBaker
See delicious photos at
Pinterest.com/TheNinjaBaker/
& Instagram.com/TheNinjaBaker
YouTube Videos at
YouTube.com/NinjaBakerOfficial
Recommended Links