*These Japanese lessons are created based on the Terms of Use of the Copyrights of them; TITLE: Give My Regards to Black Jack, AUTHOR: Shuho Sato, and WEBSITE: Manga on Web.
Japanese Lessons 1-3-1 75歳の値段 / The Price of Being 75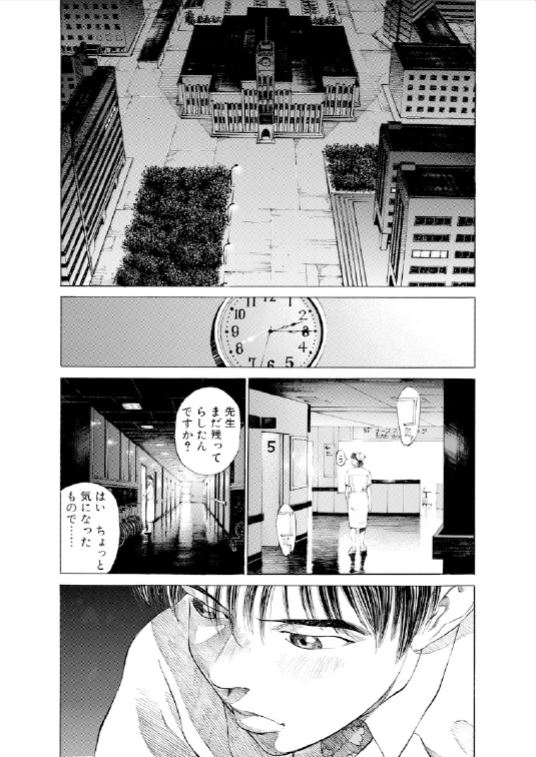 You can browse all of the pages by clicking the picture above and then move to any page via 「目次」 at the left. When you need English translations or explanations, please return here and refer them. This article covers from page 87 to page 108.
Japanese Script with English Translation
「先生、まだ残ってらしたんですか?*」「はい、ちょっと気になったもので…。」
"Doctor? You're still here?" "Yes, I was… a little worried…"
One Point Lesson: Japanese Vocabulary
「いらした」 is the contracted word from 「いらっしゃった」. This is an honorific expression and is equivalent to 「行く」「来る」「いる」 and  「ある」.
「お早うございまーす!お早うございまーす!」「どうしたんだ斉藤?今日はやけに気合入ってんじゃねーか…」
"Good morning! Good morning!" "What's up with you, Saito? You sure are pumped up today."
「血小板60単位、プラズマネート・カッター6本、ベニロン5g。これを全部あの金子老人にやったのかね?* 斉藤先生。」「はい!おかげで患者は今日も良好です!」「よけいな事はしなくていい…。治療の指示は私が出す。」
"60unit of blood platelets. 6 vials of plasmanate cutter. 5 grams of globulin. You used all of these on that old man? Dr. Saito?" "Yes, sir! As a result, he is in the best of shape today!" "Don't go overboard. I will tell you everything you need to do."
One Point Lesson: Japanese Vocabulary
「~かね?」 is a formal word, but cannot be used from inferior people to superior people. Nowadays, the younger generation seldom use this phrase.
「ありがとうございます、先生!こんなに偉い先生に手術していただいて、じいちゃんもきっと満足しとるとです*!」「術後の経過は順調です。手術は100%成功ですが、心臓に合併症がありますので…ここから先は正直言って本人の生命力しだいです。肺塞栓を起こさずに回復できるかどうか…心不全もあるし。ちなみにこちらは手術の助手をつとめた白鳥先生…あっち*は受け持ちの研修医で、えー…と…。」「斉藤です!」
"Thank you, professor! I'm sure he is happy to have been operated on by such an esteemed doctor!" "His condition has been pretty good since the operation. The operation itself was 100% successful, but since there have been complications to his heart… To be honest, how it goes from here will really depend on his ability to stay alive. I'm not sure if he can recover without suffering a pulmonary embolism or heart failure. This is the man who assisted me on the operation, Dr. Shiratori. And the resident intern in charge of Mr. Kaneko, Dr. ,uhm…" "Saito, sir!"
One Point Lesson: Japanese Vocabulary
「しとるとです」 is a dialect in a rural area and is equivalent to 「しています」.
「あっち」 should actually not be used toward people. It sounds rude. The professor should have said 「あちら」 as he said 「こちら」 toward Dr. Shiratori.
「すっかりよくなりましたね。午後には退院できるように手続きをとっておきましょう。」「ねえ先生、せっかくだから最後に一本点滴を打ってよ!あれをやるとぐーんと*元気が出るんだ。オレはいっつも調子が悪いと近くの診療所で打ってもらってんだ。」「うーん…点滴ですか…。点滴の中身が何かご存知ですか?桑沢さん。500ccの中身は要するに25gのブドウ糖に過ぎません。牛乳コップ半分程度、わずか100キロカロリーの栄養分ですよ。」「するってーと*何かい?点滴ってやつは意味なんかないのかい?」「ええ…おまじないのようなものです。脱水症状もないのに点滴を打つのなんて日本だけですよ。」
"Well, you certainly have gotten better. I'll work on the paperwork to have you released from the hospital this afternoon." "Hey, Doc. Since I'm here anyway why don't you give me one more IV? After one of those, I'm raring to go! I always go to the nearby clinic and have them give me an IV." "Hm… an IV, huh…? Do you know what is in an IV? Mr. Kuwazawa. A 500cc IV contains no more than 25 grams of glucose. That's a mere 100 calories of nutrition, about the same as half a cup of milk." "Meaning that… there's no reason to do an IV?" "Yes… It's a placebo. Japan is the only place in the world that actually gives an IV to someone who isn't dehydrated."
One Point Lesson: Japanese Vocabulary
「ぐーんと」 is a Japanese onomatopoeia which indicates something increasing, growing, improving, or stretching. It is used in this way; 「アクセス数がぐーんと増えた。The number of access has increased very much.」
「するってーと」 is a contracted word from 「そうすると言うと」. This is sometimes used by middle aged men.
「意外だったな…。白鳥先生って患者さんの前では笑顔もみせるんだ…。だけど、点滴をすすめない医者なんて珍しいよね…。」「点滴の成分なんてそんなもんだし、注射料も入れると一本千円以上するからな…。患者は一割負担だから100円しか払わないけど…確かに病院はちゃんと千円もうかってる…。そういうムダが積もり積もって国の医療財政を圧迫するんだよな…。」「僕も今朝よけいな治療をするなって怒られたんだ…。それも医療費のムダ遣いをやめろって事なのかな…?」「無理してがんばる事ねーよー…。どうせ給料3万8千円のままだし…。」「違う!僕は今度こそ*あの当直での失敗を乗り越えたいんだ!」「だったら当直のバイトいけよ。」「そ…それは…。」
"I didn't expect that… Dr. Shiratori can actually smile in front of a patient. But a doctor that doesn't recommend doing an IV sure is rare, huh?" "Well, he wasn't joking about what is in an IV, and when you add in the injection fee, it can cost over $10. The patient only has to pay 10% of that, about a buck or so. The hospital makes $10 though. Those unnecessary things just keep building up until they threaten the nation's medical finances…" "Dr. Shiratori got mad at me this morning for doing unnecessary treatment… I wonder if he was telling me to stop wasting medical fees on things that didn't matter…" "You don't have to go out of your way and try so hard… hell, we're only making $450 a month, anyway…" "No!! This time I really want to get over those mistakes I made on my shift!" "Then go back to that part-time job." "Uh… It's… Just…"
One Point Lesson: Japanese Expression
「今度こそ」 can be translated as "this time". However, it includes a nuance which is something like "by utilizing the experience of failure , I will not make the same mistake this time".
「今夜はもうお帰りですか?先生…。」
"Are you going home now, doctor?"
アパートへ帰るとハガキが一枚届いていた…。この間当直のバイトをした病院の先生からだった。
When I got back to my apartment, there was a postcard in my mail box… It was from the doctor I had worked with at my part-time job.
「メッセージは一件です。」「もしもーし、お母さんでーす。元気かい英二郎~。もうすぐお盆*だね~。会えるの楽しみにしてるわよ~。」
"You have 1 message" "Hellooo? It's Mom. How are you doing, Eijiro? It'll be the Bon Festival pretty soon. We're looking forward to seeing you, honey!"
One Point Lesson: Japanese Culture
「お盆」 is a Japanese traditional custom to pray for ones' ancestors. It is held on the 15thof August. People usually take the day off and go to their hometown.
「あの…白鳥先生、昨日から無尿状態が続いていて…BUNが110まで上昇しました…。腹膜透析を開始したいのですが。*」「何もしなくていい…。」「ですが先生…このままでは金子さんの容体は…。」「君にはまだ分からないのか?あの手術の意味が…」「え…?」「患者は自宅で倒れ、意識不明のままここへ運ばれてきた…。それにもかかわらず手術が行われたのは一日たった後だ。今にも死にそうな患者を前に、すぐに手術しなかった理由が何か分かるか?常識的に考えて手遅れだったからだ。」「だ…だけど…結局手術はしたじゃないですか…?」「教授の指示だ。教授が患者の家族から100万円を受けとったというのは言ったはずだ。我々はその100万のためだけに無意味に老人の体を切り刻んだ。つまり…、これ以上の治療は無駄だ。保険制度のおかげで、患者の支払う医療費は月数万程度だが…現実にはその末期医療には一千万もの金がかかる。その金を全国民が出し合ってストックした医療費の中から出すんだぞ…。君は回復の見込みがほとんどない老人を数ヶ月延命するためだけに、何千万もの国民の金を使うのか?現在の日本の医療費は50兆…15年後には80兆と言われている…。その金を君はどこからひねりだす…?このままでは日本の医療財政は崩壊する…。無駄な延命治療は社会悪だ…!」
"Uhm… Dr. Shiratori. Mr. Kaneko's anuria has continued since yesterday and his bun is elevated up to 110… so I'd like to perform a peritoneal dialysis." "You don't have to do anything…" "But, doctor, if we don't to anything, Mr. Kaneko is going to…" "You still don't get it, do you? What that surgery was all about…" "Huh…?" "The patient was brought here unconscious after collapsing. Despite that, we performed the surgery an entire day later. Do you have any idea why we didn't immediately operate on a man who was about to die? It was because it was already too late for the beginning." "B… But… but we did the operation, didn't we…? "Under instructions from the professor. I thought I told you the professor received $10,000 from the patient's family. We opened up that old man's body for no other reason than the $10000 they gave him. In other words… whatever we do for him now is meaningless." "Thanks to the insurance system, the fees paid by the patient are only in the tens of thousands of dollars each month… But in reality, this kind of terminal care costs about 100 thousand dollars. Those costs are taken from the stock of medical money all of Japan's citizens have contributed. Do you really want to spend tens of millions of citizens' money just to keep an old man with virtually no chance of recovery? The current medical costs in Japan are around 500 million dollars… It's said that they will increase to 800 million dollars 15 years from now… Where are you going to get the money? If things go that way, Japan's medical economy will collapse… Unnecessary life-prolonging treatment is a social evil!"
One Point Lesson: Japanese Grammar
This expression;「~のですが。」 can be often seen. Some words are supposed to be continued, but that is omitted here. This is usually used for making a request and we guess that 「よろしいでしょうか?」 may be omitted.The whole sentence would be 「腹膜透析を開始したいのですが、よろしいでしょうか?」
だったらなんで手術なんかしたんだ…?延命治療が社会悪だなんて言い切る*くらいなら…何で教授の指示には逆らわなかったんだ…!?
Then why did we do the surgery? If you can call life-prolonging treatment a "social evil"… then why didn't you oppose the professor's instructions?
One Point Lesson: Japanese Vocabulary
「言い切る」 is a strong word. It can be translated as "to say ~ clearly", "to declare", or "to affirm".
「僕も同じだ…。僕も…白鳥先生には一言も言い返さなかった…。患者さんの事なんて考えてなかった…"これは試練だ" "この人を救えば自分は一人前の医者だ"…僕が考えていたのは自分の事ばかりだ…。当直の時だって自分の失敗にばかりこだわって…ハガキが来るまで患者さんの事なんてすっかり忘れてた。この人の家族は一体どんな気持ちで100万円出したんだ…?おじいさん*…あなたは…生きたいですか…?」
"I'm the same. I… I didn't say a single word to Dr. Shiratori… I wasn't thinking at all about the patient himself… "This is a test…" "If I can save this man, then I'm a real doctor". I was only thinking about myself. I couldn't help but think about anything but my own mistakes. I had forgot about the patient until that postcard came. What kind of feelings made this man's family give someone $10,000? Mr. Kaneko… Do you want to live…?"
One Point Lesson: Japanese Culture
Even though a person is out of your family, Japanese people sometimes call him or her 「おじいさん(ちゃん)」「おばあさん(ちゃん)」 .
夜中の病院には死神が歩く。永禄大学附属病院病床数1千100…、平均して一晩で二人の人が亡くなる…。
Death strides through hospitals at night… From the 1,100 beds in Eiroku University's Hospital… 2 patients die per night on average…
「先生、大変です!起きて下さい、先生!金子さんの容体が急変しました!起きて下さい!」
"Doctor, it's an emergency! Doctor, please wake up! Mr. Kaneko's condition has taken a sudden turn for the worse! Please wake up!"
「脈がない。」
"He has no pulse."
Recommended Links
Program Table of Japanese Lessons
Recommended Links